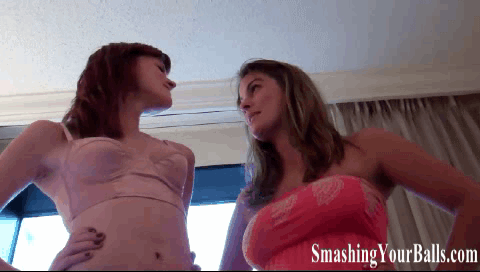 Hollis Ireland and Heather Silk are two gorgeous fetish babes who delight in dealing out terrible pain. Don't push these two babes because if you do they are going to find out what your outer limit for pain is.
Eww, gross! Look at those disgusting nuts just hanging there like a couple of rotten pieces of fruit. There is nothing we like better than smashing a guy's nuts until he is just a whimpering mass on the floor, writhing in pain. Why don't we find out just how much pressure those nasty little balls of yours can take?

How does that feel you little bitch? Look at him, I barely even squeezed his balls and he is already about to puke from the pain. We haven't even started yet because once we give you balls a few nice squeezes we are going to move on to kicks, and we even brought over a couple pairs of nice and pointy high heels for the occasion.
-Hollis Ireland and Heather Silk
Read More »