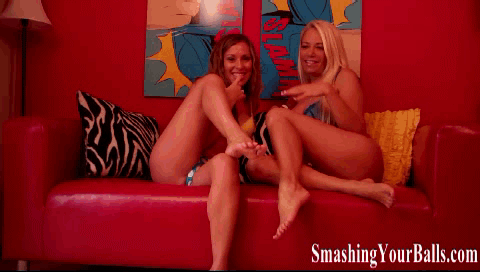 MILF Nikki and Nikki Masters are two hot and kinky babes who love teaming up and bringing men to their knees. If you think you have what it takes to handle both of these beautiful babes at the same time you are fooling yourself.
If you thought that you were going to get to fuck us, you can just forget about it right now. We didn't bring you back here to fuck; we brought you back here so we could bust those tiny little balls of yours. There is no way out of it now so don't even try to walk back out that door. I hope you have a high tolerance for pain because aren't going to walk right for a week by the time we get through with you.
A big strong guy like you should be able to handle it, right? WRONG! With both of us kicking and squeezing your balls you won't even last five minutes before you are down on your knees begging us to stop. Hell, I'll bet you can't even take one kick in the balls before you are crying like a little girl and begging for you mommy. Now drop those drawers and spread your legs, it's time for some pain.
-Milf Nikki and Nikki Masters
Read More »